We support the MOBICA Limited in Employer Branding
Mobica Limited is a British IT company established in 2004 by two IT enthusiasts: Nick Stammers and Jon Clayton. Today the company has over 1000 employees around the world: from its headquarters in Wilmslow near Manchester, through Guadalajara in Mexico and the Silicon Valley, to offices in Poland in Warsaw, Łódź, Bydgoszcz, Szczecin, Rzeszów and Lublin.
Since the beginning of 2016, we have been supporting Mobica offices in Poland in employer branding at the level of strategy and of communication:
we prepare effective communication tools for the HR department,
we design recruitment campaigns,
we optimise internal communication.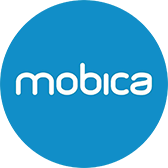 Client
MOBICA
Range of services
Communications
Employer Branding
Realization
2016